For every €20 spent we'll donate 3 cents to protect the Baltic Sea
Be an environmental hero and make sure to use your Mastercard during 14–30 November!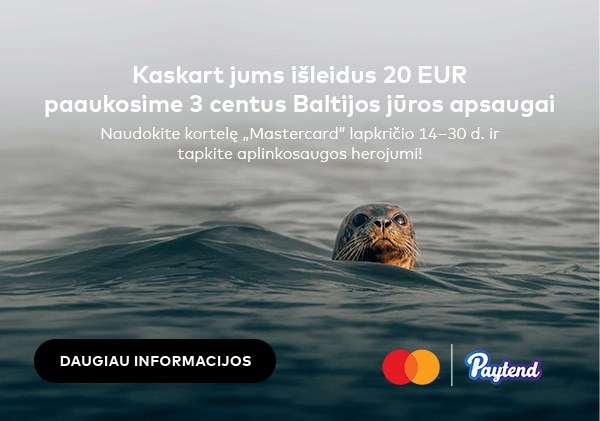 Donate to a charity without actually donating, how is that possible? It's easy, we'll do it for you. Sustainability is very important for us, as well as for
Mastercard. That's why we work hard to support the communities and environment around us. But unfortunately, for this specific campaign we can't include Maestro and Cirrus cards or Mastercard Business and Commercial cards.
Our future and the future of the Baltic Sea are inextricably linked. It's surrounded by nine countries that are home to more than 85 million people and diverse political, social and economic realities. Many of these people rely on a healthy Baltic Sea for their food and incomes, and many treasure it as an important space for nature and leisure activities.
Over the past 100 years, the Baltic Sea has degraded quite dramatically. Human pressures such as overfishing, pollution and now, increasingly, the effects of climate change are altering the ecological balance and depleting renewable resources beyond safe biological limits.
That is why we, together with Mastercard, support local charities who devote their entire work to the wellbeing of our planet and actively work on protecting the Baltic Sea.
During a campaign period between 14–30 November 2022 we will donate three cents for every €20 spent with a Mastercard in the Baltics. This means that every person who uses their Mastercard during this specific time period, will become an environmental hero.
Campaign summary:
The promotion includes credit and debit Mastercard cards from selected banks.
Campaign period: 14–30 November 2022
Each purchase of 20 or more EUR as the transaction amount (or equivalent) made with the use of the card contributes 30 cents into a donation fund.
All Mastercard cards except Maestro and Cirrus, Mastercard Business and Commercial cards are included in the campaign.
Please read the Terms & Conditions for complete information.